Laurelhurst Fiber Art Studio and Urban Farm
Tablet Weaving, Ply-Splitting, Mindfulness, and Permaculture


---
Tools




Tools for Ply-Splitting and Cordmaking
Tools for Tablet Weaving


My husband, John Brockway, makes all of the weaving tools and the gripfids. PLEASE NOTE: John makes these tools when we receive an order-- we do not have them in stock. It is helpful if you contact me to let me know what you're ordering, so John can plan to start working on it. He often has a backlog of orders, but normally can finish making items within a week or two after we receive your order. If it's going to take longer, we'll let you know. Thank you for your patience.

We encourage you to make your own tools. We are always willing to share whatever we know, including were to find raw materials and methods of fabrication. Check my Links page for information.
---
Tools for Ply-Splitting and Cordmaking
---
Gripfids -- Ply-Splitting Needles ..... $ 12.00 each including shipping

Needle sizes 6, 7, 8, 9, 10, and 10.5
Please order gripfids by needle size.

John makes them from hollow nickel-plated brass knitting needles. Standard length for the needle (not including knob) is 6-1/2".

Click here to go to my Instructional Videos page where you can watch John's video on how he makes gripfids from hollow knitting needles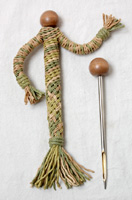 Little Mermaid Gripfid Holder Kit..... $ 12.00 including shipping

Make this cute little holder for your gripfid and learn ply-splitting techniques at the same time. The knob on your gripfid becomes the little mermaid's head. Use a size 9 gripfid to make the mermaid (gripfid sold separately).

This kit contains cords that I make from paper ribbon, and complete instructions for the design shown, as well as suggestions for variations.

Examples of needle size and suitable cord diameter:
Needle Size 6 -- for cords approximately 3/32" diameter (a little smaller than 1/8"). For example, 4-ply cords made with four strands of 10/2 perle cotton in each ply, with 15% IOT shrinkage. Cords with these specifications are available on my Cords page and also my Kits page.

Needle Size 9 -- for cords approximately 5/32" in diameter (a little larger than 1/8"). For example, 4-ply cords made with four strands of 5/2 perle cotton per ply, with 20% IOT shrinkage. Also for 4-ply cords made with one strand of Wraphia II paper ribbon per ply, with 15% IOT shrinkage. Cords with these specifications are available on my Cords page and also my Kits page.


Helpful hint to determine what size you need: A gauge with holes corresponding to knitting needle sizes is available in knitting and craft stores. The one shown here is the Knit-Chek by Susan Bates. The holes in the gauge are the outer dimension of the knitting needles, and you need to allow for the wall thickness and a little wiggle room. Therefore, the gripfid size needed is generally one or two sizes larger than the hole that fits your cord.



---

Bradshaw Cord Maker and Outend
$165.00 including shipping

Click here to go to my Instructional Videos page where you can watch my 5-minute video on how I make cords from paper ribbon with the Bradshaw cordmaker and electric drill.

Click on each photo for an larger view and more details of the cordmaking process. The process for making 4-ply cords is shown, but you can also make 3-ply and 2-ply cords.

This wonderful tool is made by Nat Bradshaw in his workshop in Penobscot, Maine. Using the Bradshaw cordmaker is absolutely the fastest and most efficient way to make cords. Below is a description of how I use the Bradshaw in my studio for making cords every day.

The Bradshaw is attached to an electric drill that I purchased from Sears. I hang the handle of the drill over the end of the table. There is a small block of wood clamped to the table on each side of the drill to keep the drill from falling over.



Lay out the yarn between the hooks on the Bradshaw and the matching hooks on the outend (shown at left, clamped to the table on top of the warping wand). Notice there is a block of wood taped to the top of the drill. This allows me to turn the drill upside down, so the weight rests on the table. I hold the drill in my right hand and lightly press the Bradshaw head on the table to keep it from rotating. The four hooks on the Bradshaw head rotate independently in one direction to add overtwist to the yarn. Typically, the yarn is overtwisted in the S direction when making cords for ply-splitting. For Z-twist, reverse the direction on the drill. As you add twist, the Bradshaw and drill will be pulled along the tabletop as the length of the yarn decreases. It is important to keep tension on the yarn as it is being overtwisted.


When the desired amount of overtwist is reached (a percentage of the original yarn length), I raise the head slightly off the table, and the entire head rotates in the opposite direction to ply the yarn.



---
Tools for Tablet Weaving
---
Tablets, set of 25 ..... $5.00 including shipping

The only tablets available featuring warp-twined designs! 3-1/2" square cardboard, thin yet very sturdy.



---
Tablets with additional holes, set of 25 ..... $8.00 including shipping

The same tablets as above, but I have punched a hole in the center of each side. Use these new holes instead of the traditional corner holes for weaving structures such as pebble weave, plain weave, and double-cloth.



---

Warping Wand ..... $10.00 including shipping

This is a simple device that I developed to keep yarns from tangling while making a continuous warp. This one is made from a piece of lattice, about 18" long, with holes drilled 4-1/2" apart.



---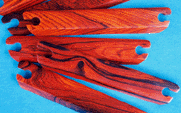 Rosewood Shuttles ..... $18.00 including shipping

Every few months, John and I go to a family-owned wood company here in Portland to choose beautiful rosewood for these shuttles. We enjoy looking through the available wood for the most interesting grain patterns. John has refined the design over the years -- following my suggestions from regular use -- to make these shuttles just right for tablet weaving.



Walnut Shuttles ..... $15.00 including shipping

These shuttles are the same design as the ones above, using recycled wood from our neighbor who makes custom guitars and furniture.


---
Adjustable Warp Spreader ..... $60.00 including shipping

Warp spreaders have been used for hundreds of years. They make turning easier by keeping the tablets slightly apart, and also help create a straight selvedge. Our modern design features a 6" wide adjustable crossbar which can be raised or lowered to the perfect height and tension for your warp (custom widths also available). Clamp the base to your table or board to keep the spreader from skewing.



---

Basic Warp Spreader ..... $35.00 including shipping

Our basic warp spreader is 6" wide and 4" high; you can make it higher by putting something under it! Custom widths and heights also available. Clamp the base to your table or board to keep the spreader from skewing.



---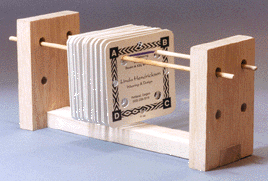 Tablet Holder ..... $32.50 including shipping

Have you ever had your threaded tablets fall in a tangled heap on the floor? Prevent this frustration with the tablet holder! Use it any time your warp is not held under tension. Clamp the base of the tablet holder to your table or board and slide the dowels through the holes in the tablets to keep them in place. I developed the tablet holder to keep things orderly while sleying the cut ends of the warp through a reed for my "spaced-out warp" scarves. Later I discovered how useful it is in other situations. I always use it when I untie the ends of a warp to push out accumulated twist. It also comes in handy when making the warp for threaded-in designs, where tablets are threaded one hole at a time. When ordering, please send one of your tablets so John can drill the holes in the right place.


---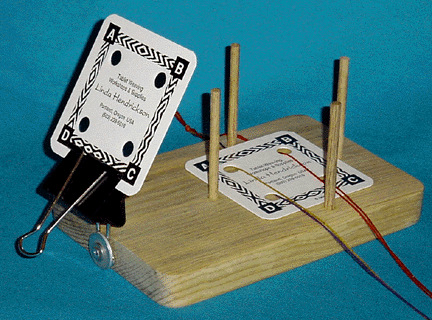 Tablet Threading Device designed by Peter Collingwood
$35.00 including shipping.

This is the device that Peter designed for warping a threaded-in design, in which each hole is threaded individually. Clamp it to the table to begin warping. The clip holds a tablet while you thread the holes and wind off the yarn around warping pegs. Cut and knot the yarn, and put the threaded tablet in the enclosure. Repeat the process with each tablet. See Fig. 19 and "Drawing Warp Through Individual Tablets" in The Techniques of Tablet Weaving for a more details.


---
Warp Tensioning Blocks with Horizontal Dowels
$32.50 per pair including shipping

Each block has a removeable horizontal dowel, with space for weaving up to 5-1/2" wide (custom widths also available). Clamp the blocks to a board to make a portable loom. I recommend that you allow a little extra when making the warp so you can tie the warp to the dowels in small sections. You can then untie the desired warps at the far end to adjust tension or to push out any twist that accumulates as you weave. Sold in pairs.


---
Tablet Weaving Loom for Children
Prices include shipping
$26.50 for loom with dowel and one C-clamp
$38.00 for the above plus shuttle and 8 tablets already threaded

This loom consists of a 3-foot long board, with a dowel attached to one end and a 2" C-clamp at the other end. You provide the clamp to attach the loom to the table. You can make this loom easily yourself, but so many people have asked if we sell it, that we decided to include it here. If you do it yourself, and don't have carpentry skills, you can use another C-clamp instead of the dowel.

Children love weaving friendship bracelets! Instructions for warping and weaving bracelets are in my book Tablet Weaving for Parents and Children.



---
This page updated May 30, 2012.