---
19th century tablet-woven Bakhtiyari bands and horse head-dress
These images are details of bands in the collection of Fred Mushkat. For more information and photos, see his article, "Persian Warp-Faced Nomadic Bands", HALI, The International Magazine of Antique Carpet and Textile Art, Issue 84, pages 78-87.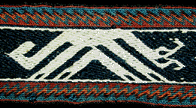 These images are from a 19th century tent band. Bakhtiyari goat-hair tents were secured with ropes, and only a few decorative tent bands such as this one are known. The indigo and white pattern area is woven in the 3/1 broken twill, and the borders are warp-twined.


---


These images are from a late 19th century horse headdress. Like the tent band above, it is woven in the 3/1 broken twill with warp-twined borders. It is embellished with cowrie shells, buttons, tassels, and other objects. A band is folded and sewn to fit the horse's head. Bakhtiyari horse headdresses might be covered so extensively with embellishments that the beautiful weaving is completely obscured!

---
The pattern area at the ends of Bakhtiyari tablet-woven bands have simple geometric designs in warp twining, such as the checkerboards and chevrons shown here.

---
For more information, contact
Linda Hendrickson
(503) 239-5016
linda@lindahendrickson.com
---
Home
Workshops | Teaching Schedule
Mail Order Books & Supplies
Resources & Links